It is easy to forget content made years ago. It sits dormant and collects dust on company drives and servers no one remembers. But for publishers and content creators an easily accessible content archive is their secret advantage. Standard content is said to have a life cycle of 30-days. But the content creators who use the power of AI, expand their content lifecycle to live forever (no joke).
Read below on how spoken word AI can help unlock your potential as a content creator while adding value to your content archive. 
Forward-thinking content creators dip into their content archive to save money and time
In 2020, 61% of marketers stated that "updating and repurposing existing content" was the most efficient content marketing tactic implemented by themselves and their team. Source: SEM Rush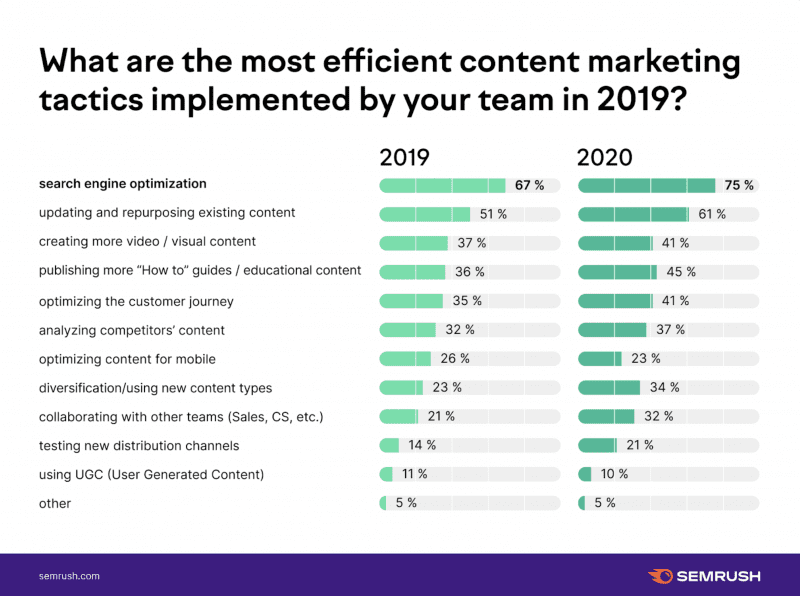 Creating new materials for content, and the associated content marketing requires a lot of effort. You must create fresh ideas, research, produce, create, publish and promote. To make sure that content hits the mark and reaches the desired audience at scale, there will need to be multiple skill sets needed to complete the process: copywriters, designers, SEO experts, social media marketers and others. As we know, this makes creating content and marketing, expensive and quite an investment. Fortunately, any and all of your content can be repurposed into something new and different, continually stretching your investment and marketing reach.
A content archive powered with AI is a goldmine for content creators
Copying and pasting old blogs into Medium > 20,000 new subscribers
Creating slide deck for SlideShare > 10,000 new subscribers
Creating an E-book from blog posts > $30,000 sales revenue of book
But the list doesn't stop there, and in audio and video (where content creating time and costs are so high, and the effort to reach an audience so extreme) the reasons are even more noteworthy, especially if your content is "timeless" or "evergreen":
Turn podcasts and video interviews into blogs for your website > drives SEO
Create SlideShare – B2B engagement via LinkedIn
Turn long-form content into short-form snippets > post to social media
Align short content clips with customers via newsletter > engagement
Cross-promote – Take a YouTube video and place it on a website, socials, newsletters
The bottom line is the bottom line, smart use of your content, especially turning archival long-form into short-form, ensures you can post to every channel, post regularly, engage constantly and curate relevant experiences for your audiences. That is how you really get noticed in the competitive content space.
AI helps content creators uncover great content ideas from old pieces of content
The first thing that you need, in order to make the most of your library of content, is a way to surface the appropriate content at the appropriate time.
Currently, searching spoken word audio and video content is hard to do. Sonnant has made it easy to discover and quickly find your content. Every piece of content is automatically tagged (people, places, organisations, speakers, topics, subjects, keywords, summaries and more), every word is transcribed, and everything is then made searchable. Having a searchable, centralised, library makes it easier for people to find and obtain the content they want and are interested in.
If you have a voice and video content, there is a lot being said and discussed in it. Usually, some incredible topics are discussed, great quotes, funny bits, discussions about people, brands, organisations, countries and much more.
But if you haven't had that content transcribed it's impossible for Google and other search engines to find it and show it to people looking for it. Transcription and voice to text is also the first step in being able to create a blog from audio/video content, being able to create a web page or social post.
Great editing tools help you unearth and create content at speed from your existing library
Using Sonnant's AI tools, you can quickly identify topical content. For example, if the topic of the day was "Olympics", you could quickly find any mention of the Olympics in all of your content with a quick search.
Once surface, all you need to do is select the relevant words, and you have created a clip that can be embedded, and exported with captions to your social platforms, and you will have all the suggested hashtags suggested for you to maximise engagement and discovery.
Using these simple, best-practice, steps to repurpose content you can increase engagement by up to 25%, listens and downloads by 15% and following on socials by up to 18%. Source: Disciplinn 2020
Content creators who monetise their content archive are ahead of the curve 
If your content has been tagged, stored and structured, you can easily engage and monetise.
We have seen customers with valuable content, embed Sonnant search on their website so audiences can discover the depths of their content. For example, Universities do it for lectures, training companies for courses, professional archives do it to create licensable assets for others to purchase, member-based organisations (e.g. CLE / CPD) make it easy for members to find and media companies do it to sell the best bits for brands and organisations that want great product word-of-mouth (almost like a media monitors function).
Then, if people want to use that content, access it, or share it, it is simple to have the player embedded in your website, with that content easily searchable, crawlable, shareable, 'clippable' and much more.
Don't forget, if you have internal company content, which is just as valuable, you can make it easy for staff to find relevant customer content, training content, seminars and anything where this is the spoken word.
By packaging a range of archive focussed tools together in one platform, we are enabling content creators, podcasters, promoters, advertisers, marketers and content library owners to liberate all of their spoken word data, enabling it to be better monetised, more engaging for their audiences and empowered to be more effective for advertisers.
We have a Free Trial of Sonnant available, get 1 hour of uploads into your library for free.