Efficient and organised CMS / digital asset management for audio and video content.
At Sonnant, we understand the importance of having a searchable library that is tagged, clipped, categorised, and contextualised to meet the needs of your business. That's why we've created a platform that will revolutionise the way you manage your digital assets.
There is value in your old content. Sonnant proactively extracts every single ounce of it for you.
Our platform will help you unlock the full potential of your audio and video content. With our cutting-edge technology, you and your teams will be able to easily search and find the content you need, when you need it. Our tagging and clipping feature allows you to identify and organise your content in a way that makes sense for your business. Plus, our categorisation and contextualisation tools will help you to better understand your audience and target your content to the right people.
In the past, your content, once promoted would sit on a metaphorical dusty digital shelf. Your ability to leverage content was limited to your human resources and your desire to wade through hours of archival audio or video footage to find what you need.
Not any more.
Run your content through Sonnant and every item is tagged with keywords, topics, people, places, organisations and more. Every item is time stamped to the mili second, transcribed, captioned, summaries and kept in a secure, scalable, shareable content library accessible via any web browser.
We also understand the importance of meeting industry standards, which is why our platform is fully compliant with IAB categories. This ensures that your content is properly classified and easily discoverable by your target audience.
Trusted by world leading content companies
Sonnant – a new industry standard.
At Sonnant we manage radio, sports commentary and libraries of podcast content at scale. Our customers have control of creation, but most don't have control of their audio and video content. Sonnant tags, transcribes, categorises, contextualises and organises multimedia content so you can have full command, and have it all in one place.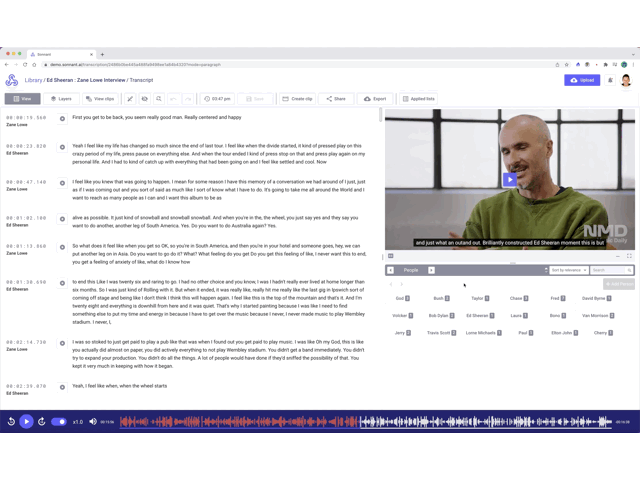 Media asset management reimagined
The wait is over, contact us today
See how little effort is needed for seamless management of your digital assets.