The narrative of all sports audio and video content is the spoken word.
Sporting content competes for sponsorship dollars and fan engagement on a global playing field: live, podcasts, streaming, on-demand and social media. 
And, it's not just the rights holders that have the most to gain. Fans, sponsors, partners, advertisers and athletes are all participants.
But, sporting content has suffered from analogue limitations. It is slow and manual to create and process, making it expensive), it has poor attribution for sponsors, search and discovery is nascent and targeting is super-complicated.
Sonnant was created to help sporting content outperform, raising the bar of how far content can reach, and how much more it can be monetised.
Engage your fans with more content, delivering your sponsors premium levels of reach and recognition.
Audio sports content can be better monetised and targeted with Sonnant. 
Trusted by world leading sports broadcasters for global-scale sports
Eliminate work no one wants to do, and focus on fan engagement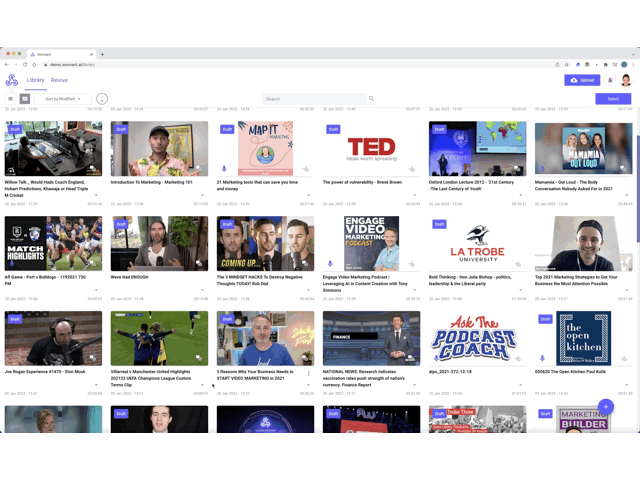 With Sonnant, sports rights holders and sporting bodies can monetise their content, increase their reach and streamline their management process.
You'll soon be able to streamline your content management process and maximise revenue opportunities. Also, our platform allows you to leverage your archive content, enabling you to gain new revenue streams from previously recorded audio and video content. Make more assets for less and improve your workflow pace.
If you have enterprise level content requirements, get in touch.
Some of our delighted sporting content customers
"Now, within a few minutes after the game we have all the mentions counted, transcribed and assembled, plus a link to send to our clients to review."
We can now preload all our brands, credits, extended credits and anything else we want to use "machine listening" for to air check ahead of time. Our partners love the speed and accuracy of the reporting.
We used to solve this problem with a flurry of pieces of paper at the game as producers frantically scribbled whenever they could that the "Chemist Warehouse Scoreboard" was mentioned. The list was incomplete, riddled with errors and it took a staff member to listen back to the whole game in real-time to ensure the count was correct, rip out the audio of the best mentions and somehow communicate that back to the client via sales teams. Now it takes us 2 minutes!
Don't wait any longer - contact us today and see for yourself how Sonnant can help you monetise your sports content and streamline your management process.
Take your sports content up a level
Your sponsors and fans will be knocked out of the park.